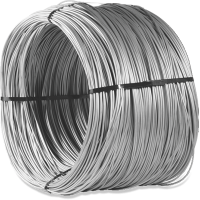 We supply the best quality steel and lowest possible prices and hence we are one of the top listed companies in this industry. We deal in all grades of Carbon And Alloy mild steel.
Sizes – 5.0 mm, 5.5 mm, 6.5 mm, 7 mm, 8 mm, 10 mm & 12 mm size Wire Rods.
Our product quality has been widely accepted in the market and is being used for manufacturing Binding Wires, G.I.Wires, Barbed Wires, Wire Ropes, .Wire Mesh, Nails etc. consistent hit.
Mechanical Specification (Commercial Grade)
| | | | | |
| --- | --- | --- | --- | --- |
| Size | Carbon | Manganese | Phosphorus | Sulphur |
| 5-12 mm | 0.12% max | 0.45% min | 0.05% max | 0.05% max |
Mechanical Specification (Low Carbon Grade)
| | | | | |
| --- | --- | --- | --- | --- |
| Size | Carbon | Manganese | Phosphorus | Sulphur |
| 5-12 mm | 0.10% max | 0.45% min | 0.05% max | 0.04% max |
Mechanical Properties
| | | |
| --- | --- | --- |
| Yield Strength (max) | Tensile Strength (max) | Elongation (min) |
| 280 max | 450 N/mm² | 28% |